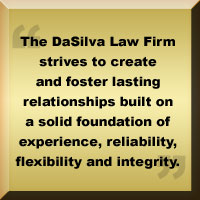 As a general practice law firm, The DaSilva Law Firm has been helping individuals, families and businesses across Connecticut since 1987. We're proud to have attained a local and statewide reputation for personal attention and aggressive legal representation at reasonable rates.
Whether your legal need concerns a real estate transaction, an accident claim, the need for civil litigation, or any of the variety of practice areas in which we concentrate, you can be sure that your problem will receive the attention and counsel it deserves.
Contact The DaSilva Law Firm and schedule a private consultation at our offices to begin the resolution of your legal needs.